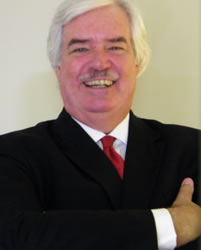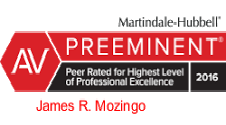 Central Mississippi Office
Highland Village, Suite 278
4500 Interstate 55 North
Jackson, MS 39211

Telephone: 601.812.5885
Facsimile: 601.852.1142
Email: jmozingo@mozingolaw.com

Mississippi, 1978
U.S. District Court Northern District of Mississippi
U.S. District Court Southern District of Mississippi
U.S. Court of Appeals 5th Circuit
U.S. Court of Appeals 6th Circuit
U.S. Court of Appeals 11th Circuit
U.S. Supreme Court


Mississippi College School of Law, Jackson, Mississippi, 1978
J.D.
Honors: With Distinction
Law Review: Mississippi College Law Review, Associate Editor

Washington and Lee University, Lexington, Virginia, 1975
B.A.
Major: Politics





MOZINGO | QUARLES, PLLC
Business & Commercial Litigation
Bankruptcy & Debtor/Creditor Relations
Business & Commercial Transactions
Download James R. Mozingo's CV (PDF)
Jim Mozingo is first and foremost a business lawyer. For over 30 years Jim has written his clients' most important contracts and agreements, advised them on the critical issues of their businesses (often when the success of the business was at stake), and has zealously and successfully advocated his clients' interests in the Federal and state courts of Mississippi and other jurisdictions. He takes great pride in being a "cradle-to-grave" business lawyer. Rather than be only one or the other, Jim believes most fervently that his vast litigation experience make him a much better contracts lawyer and business advisor, and that his years of contracts and business experience make him a much better business and commercial litigator. "You can just give better advice when you've actually seen and participated in litigating the same and similar issues and vice versa," says Jim.
Recently, the firm, with Jim as lead counsel, succeeded in recovering over a million dollars worth of real estate for an LLC whose minority member had deeded away and mortgaged it for his own personal gain without authority. A significant issue of Mississippi real property and limited liability company law not previously addressed by the courts was decided, and in the process, hundreds of thousands of dollars of mortgages were voided for the client's benefit. The final appellate decision in the case is reported at Kinwood Capital Group, L.L.C. v. BankPlus (In re Northlake Dev. L.L.C.), 643 F.3d 448, 2011 U.S. App. LEXIS 11993, 54 Bankr. Ct. Dec. (LRP) 233 (5th Cir. Miss. 2011). The case and its lessons were the subject of three (3) seminars in October 2011 (LLC's and Commercial Real Estate Lending After Kinwood Capital) sponsored by the University of Mississippi Center for Continuing Legal Education and featuring members of the firm.
Jim is equally adept at the bargaining table. At the time Jim negotiated the privatization contract for his client, the City of Jackson, Mississippi's wastewater treatment facility became the largest public treatment works under private management in the country. Numerous other privatization contracts have followed over the years in Mississippi and in Florida, Texas, Arkansas and Tennessee. Jim has also bought or sold businesses for clients in Mississippi, Florida, South Carolina, Arkansas and in Canada and in such industries as newspapers, insurance brokerage and heavy equipment parts and services. Business and commercial leases of all kinds, supply contracts (including with international suppliers), consignment agreements, employment and non-compete agreements and many more have been written and negotiated over Jim's 30+ years in practice.
A Fellow of the Mississippi Bar Foundation and an AV peer-rated lawyer in the Martindale-Hubbell listings, Jim Mozingo may also be found in the 2012 list of Mid-South Super Lawyers. Jim served as a member of the Mississippi Board of Bar Admissions for over 20 years (chairman for 7 of those years), examining in the areas of business organizations and bankruptcy. For over two decades, he has shared his expertise in business and commercial law as a frequent speaker to continuing legal and other professional education courses on such topics as damages in business and commercial litigation, lender liability, commercial collections, negotiation, numerous bankruptcy issues, environmental law related to water and wastewater treatment and ethics.
Download James R. Mozingo's CV (PDF)
---
Jim Mozingo Named One of Mid-South's Best Lawyers for Second Year in a Row