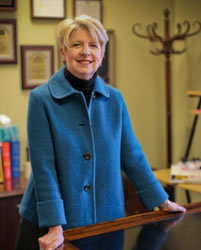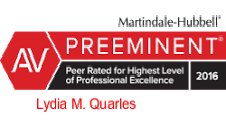 North Mississippi Office:
1016 Louisville Street, Suite E
Starkville, Mississippi 39759
Post Office Box 1445
Starkville, Mississippi 39760-1445
Phone: 662.268.5096
Fax: 662.323.5256
Emails: lydia@mqlawoffices.com

www.onlywhenpigsfly.com
www.sig.msstate.edu

Alabama State Bar
The Mississippi Bar
United States District Courts for the Northern and Southern District of Mississippi
United States Court of Appeals for the Fifth District



Juris Doctorate - Cumberland School of Law, Samford University, 1975.

Master of Arts Communications - Mississippi University for Women, 1972,
summa cum laude, with specialization in political rhetoric and
public address.

Bachelor of Arts Political Science and Communications - Mississippi University
for Women, 1971, cum laude.



Starkville, MS
Partner

Lydia Quarles is a Senior Policy Analyst at the John C. Stennis Institute of Government, Mississippi State University. She joined the Stennis Institute in 2006, following 13 years of service to the Mississippi Workers Compensation Commission, including five years as the Commissioner of the Mississippi Workers Compensation Commission and eight years as an Administrative Judge. Prior to her work with the MWCC, she spent more than a dozen years in the private practice of law in Alabama and Mississippi.
Quarles is an active member of the bar and serves as co-chair of the Mississippi Supreme Court's "Gender Fairness Implementation Study Committee." She is a member of the Mississippi Supreme Court's "Rule of Law Committee" and acts as the Chief Operating Officer of the Workers' Compensation Section of the Mississippi Bar. She is a fellow of the Mississippi Bar Foundation, a recipient of the Mississippi Bar's Distinguished Service Award, and a member of the Mississippi School for Math and Science Foundation Board. Quarles has been honored by the American Bar Association's Administrative Law and Regulatory Practice Section, receiving the Mary C. Lawton Award for lasting contributions to the Mississippi Workers' Compensation Commission in the areas of alternative dispute resolution and access for Hispanic workers.
She spends much of her time in Starkville and Jackson (MS), but widely travels in the course of her work, with clients throughout the state and region. Her zest for law, consulting and dispute resolution and her deep compassion and concern for clients and causes make her seem tireless, with an enthusiasm and optimism that are contagious – warranting her "Expect the Unbelievable" motto.
Post Graduate Education
Graduate of National Judicial College, Reno, Nevada (administrative hearings curriculum)
Completed class hours toward a Ph.D in Public Administration, Mississippi State University.
Graduate of History of Workers' Compensation Curriculum, University of New Brunswick, Canada
Workers' Compensation Professional Certification, Michigan State University, School of Labor and Industry, Ann Arbor
Completed over 100 hours of mediation training; certified by the Mississippi State Supreme Court, the United States District Courts for the Northern and Southern Districts of Mississippi, and the Workers' Compensation of the Mississippi Bar as an approved mediator
Roster member: NASD Arbitration Roster
Roster membership pending: AAA Arbitration Roster
Project Manager Professional Designation (pending); completion of 12 hours of project management training.
---
Lydia Featured in The Mississippi Lawyer (Winter 2012-2013)
March 2013

The 2011 winner of the Susie Blue Buchanan Award, Lydia Quarles has long been a proponent of women's legal and economic issues and has worked diligently to engage women in politics at every level—local, state and national.

"We have learned from the European Union that a legislative body comprised of 30% women can make a perspective shift," she said. "We need to continue to work to achieve that shift in the US."

And that is precisely what Quarles intends to do as she continues to operate a thriving private practice and engage in government and academic initiatives through her position as a senior policy analyst with Stennis Institute of Government at Mississippi State University.

---
"Embracing Our Obligation Under Rule 8.3"
August 2012
Lydia spoke about this topic at MWLA meeting in March.

---
Lydia Won the Women in the Profession Committee "Trailblazing" Award, July 2012
---
BIG News for Lydia's Blog
June 2012
Lydia's Blog to be Included in U.S. Library of Congress' Historic Collection of Internet Materials
The URL for Lydia's blog is lydiastennis.wordpress.com

---
Lydia Quarles wins 2012 Joan Fiss Bishop Award
Lydia received the award in Las Vegas at the 2012 National ASPA Conference at the SWPA Awards Breakfast on Monday - March 5th